Click on an image to Enlarge, learn more and purchase
I hope you are enjoying the Floral Gallery Room.  All of these Original pieces  are painted around the edges of the canvas in a Gallery Wrap style and are ready to display. The Soft Pastel Paintings are all framed.  If the Painting you like is not shown displayed, I will be happy to send you jpeg photos of the piece framed and/or on display. CLICK on the link below for purchasing information.
*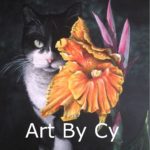 *
Need an image?  
 Throughout my websites You will see works that may be of benefit to your business or products. I do License my images to this end. Please contact me, I would love to discuss your needs.
*
Copyrights for reproduction on all of the artwork on this website are retained by Cy Hundley.  All of the Charcoal Drawings and Acrylic Paintings,  purchased here do not include reproduction rights. These are sold separately. Please contact me if you believe reproducing my work is of benefit to you. Costs and terms of contract are determined by final usage.  I will be happy to share, please just ask first! Thank you.
Cy Hundley, Fine Artist,  Chelan Washington  509.415.2496