This is me and my sister's kitty Freddy
*
How can I help you?

Hello, Let me help! I fill needs, solve problems, and provide solutions for individuals and businesses with my fine art services; Original artworks, commissions, licensing, and a product/gift line which includes hand made pet products, prints, posters and greeting cards. I specialize in Pet Portraiture and am passionate about all animals. I've been at this for a long time, am accomplished, honest, and want to help. Please contact me, whether you need a special gift, an image, or a unique item to fill out your sales line, I would love to meet you and discuss YOUR needs.
I work hard every day to produce original artworks.  Aside from the time and effort to create, much energy and funding is also spent in their reproduction, to make my images available to everyone.  The goal is to come up with the best possible gifts and useful or inspirational options for YOU,  to collect and enjoy, or to share with those you love.
I primarily paint with acrylics, or draw with charcoal.  And of course I love crafting, building and creating with my hands. Please let me know how I can be of service, and help you.
My Mission As An Artist:
To help others, including animals, by honoring all Flora and Fauna. To provide enjoyment and fill demands through the sharing of my creations.  And to leave behind a large body of work that will continue doing both the above long after I am gone.
On a personal note:
I am a Workout, Animal, Gardening, Roadtrip and Hauntings fanatic.  I love being outdoors, and enjoy participating in many sporting activities.  I graduated from Western Washington University, in Bellingham WA (a long time ago…) and currently I live in Chelan WA, with my Cat named Violet. She was kind enough to let me use her portrait as my Art By Cy logo.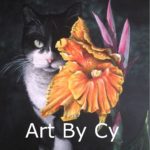 * 
Cy Hundley, Fine Artist,  Chelan Washington  509.415.2496